The Nantucket Land Council held its 3rd Annual State of the Harbor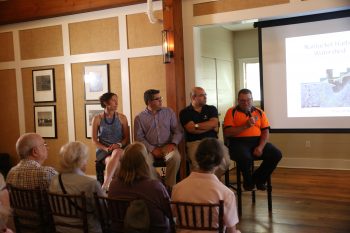 Forum Thursday, July 18, 2019 at the Great Harbor Yacht Club.
This educational event is a free, public opportunity to hear about on-going research and restoration efforts in Nantucket Harbor including eelgrass, oyster reef and salt marsh restoration projects as well as reports on the current state of Nantucket harbor water quality and future improvement projects. Presenters included Dr. Alyssa Novak, Research Assistant Professor at Boston University, Emily Molden, Nantucket Land Council Executive Director, Leah Cabral, Town of Nantucket Assistant Biologist, Thais Fournier, Town of Nantucket Department of Natural Resources, Dr. Jennifer Karberg, Nantucket Conservation Foundation Research Program Supervisor, and Brian von Herzen, Ph.D.
For sponsorship opportunities or additional information on this year or next year's State of the Harbor Forum please contact the NLC office at nlc@nantucketlandcouncil.org or call (508) 228-2818.
Thank you to our 2019 State of the Harbor Sponsors including:
Elizabeth and Michael Galvin
Great Harbor Yacht Club
Nantucket Shellfish Association
Visco Pumping, Inc.
Anderson's Stillwater Moorings