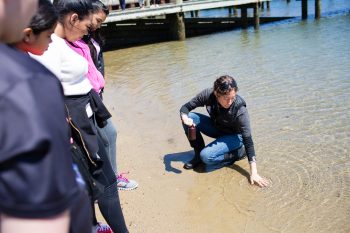 The Nantucket Land Council is pleased to announce its twenty-fourth year of financial assistance to Nantucket students and teachers in grades K-12 to conduct science and environmental projects. Our goal is to encourage students' understanding of their local environment through direct involvement in project-related activities. The intention of this program is to help teachers enhance their curriculum with alternative learning tools (materials or activities).
Awards will be made based on the following criteria:
Project's ability to enhance students' science/environmental learning process
Project's direct connection to students' curriculum
Sustainability of grant (Will it benefit students for years to come?)
Budget documentation (Are costs well-substantiated; are equipment purchases defined, etc.?)
Track record of grantee (History of grants received; previous project outcomes; reporting performance, etc.)
Proposals may be submitted by an individual or team of teachers. High school students, in cooperation with a teacher-mentor who will supervise the project, may also submit proposals. Fall grant proposals should be submitted to Emily Molden at the Nantucket Land Council office no later than Monday, October 25, 2017. To learn more please download the following
Grant Proposal Letter(PDF)
Grant Application (PDF)
Previous Grant Projects (PDF)
Karen K. Borchert Educational Grants
Since 1993, the NLC has awarded environmental awareness and science project grants to local students and teachers. Our goal is to encourage students' understanding of the island environment through direct involvement in project-related activities. At the end of each year, Resource Ecologist Emily Molden works with the Education and Research Committee to review applications and award the grants.
The NLC is pleased to announce that our annual school grants program has been re-named the Karen K. Borchert Educational Grants in honor of Karen Borchert and the dedication she had to all of our educational programs during her tenure with the Land Council.
Among the 2016 grant recipients  are:
Kara Carlson for the Nantucket Elementary School's 5th grade trip to Nature's Classroom.
Joni Amaral for the Nantucket New School's 3rd grade study of plants and phases of the moon.
Rachael Sullivan for the Nantucket New School's 5th grade study of electricity.
Sandy Mitchell for the Nantucket Lighthouse School 4th, 5th and 6th grade's botanical studies.
Lizbet Carroll Fuller for hosting a professional development workshop on island for up to 25 Nantucket teachers. The workshop will enhance teachers' ability to bring hands-on and project-based science learning into the classroom. The professional development workshop will be presented by Engineering is Elementary, a program developed by and based at the Boston Museum of Science. We are very excited to be a part of this opportunity for all island teachers.