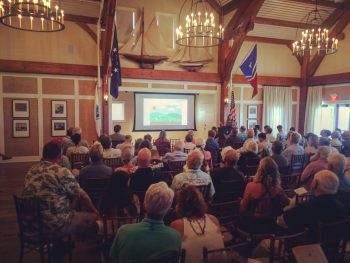 The Nantucket Land Council held its first annual State of the Harbor Forum on July 18 at Great Harbor Yacht Club. We invited presenters to speak on the health and ecology of Nantucket Harbor. For those who couldn't attend or just want to learn more we have provided each presenter's PowerPoint presentation and a video recording of the evening.
Kaitlyn Shaw – Harbor Water Quality (pdf)
Tara Riley – Shellfish + Eelgrass (pdf)
Roberto Santamaria – Septic Systems + Sewer (pdf)
Cormac Collier – Fertilizer (pdf)
Emily Molden – Stormwater (pdf)
Jeff Carlson – Mooring + Boat Use (pdf)
Video – Coming Soon!