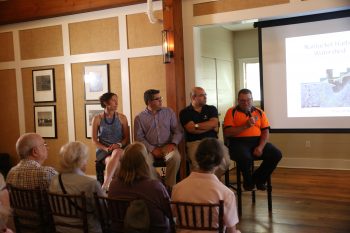 The Nantucket Land Council signature summer symposium is the State of the Harbor Forum, scheduled for Tuesday, July 20, 2021 at 4:30pm. This year's event will be a hybrid live + virtual event held at the Nantucket Yacht Club and simultaneously broadcast on YouTube by NCTV18. Limited seating is available for our in-person event at the Yacht Club on a first come first serve basis. 
Register for remote participation:
Watch on YouTube:
As we embrace and expand upon our new Nantucket Waterkeeper role we have launched a campaign on Green Boating Tips for a Healthy Harbor. You may have seen these posted on social media or in one of our e-newsletters this spring. This year the State of the Harbor Forum will be a culmination of this campaign with a presentation and discussion around boat use in our harbor, the effects on our resources and infrastructure, and how we can all participate in preventing or mitigating these impacts on a personal and community level. We hope you will join NLC staff and Nantucket Harbormaster Sheila Lucy for this important Forum. The event will be recorded.
The NLC is proud to present this yearly educational event free for the community as an opportunity to hear about on-going research as well as preservation and protection efforts in Nantucket Harbor.  A huge thank you to our 2021 sponsors: Anderson's Stillwater Moorings, Nantucket Shellfish Association and Visco Pumping, Inc.  To help us present this annual symposium free to Nantucket, please consider a business or family sponsorship.  Email meg@nantucketlandcouncil.org for more info.
The NLC's 4th Annual State of the Harbor Forum was hosted September 24, 2020. Watch the full presentation – The State of the Harbor: Impacts and Implications of a Changing Climate HERE. For this special edition of the forum, we proudly featured our keynote speaker Pulitzer Prize finalist Elizabeth Rush, author of Rising, Dispatches from the New American Shore.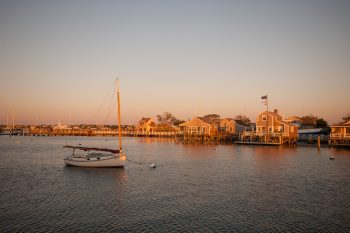 A huge thanks to our 2020 sponsors and supporters Nantucket Shellfish Association and Anderson's Stillwater Moorings for helping bring this free, educational event to our island community.
For sponsorship opportunities or other questions, please email meg@nantucketlandcouncil.org.
Check out the full video from the 2020 4th Annual State of the Harbor Forum:
Recorded and edited by Nantucket Community Television