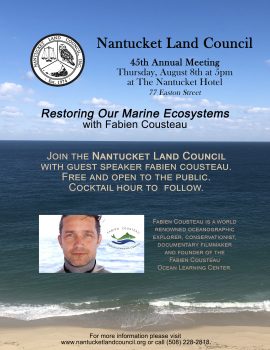 The Land Council is proud to announce their 45th Annual Meeting at The Nantucket Hotel on Thursday, August 8th, 2019 with special guest speaker Fabien Cousteau, of the Fabien Cousteau Ocean Learning Center.  Fabien, grandson of Jacques Cousteau, is a world renowned oceanographic explorer, ocean conservationist, and documentary filmmaker.
As always, all NLC members are encouraged to attend and the general public is welcomed free of charge. The meeting begins at 5pm, is free and open to the public, and will be followed by a cocktail reception.
Fabien and the Ocean Learning Center are also partnering with the NLC on a Beach Cleanup project on August 9 and a special Eelgrass Transplant Day on August 10.  Read more about the Beach Cleanup and Eelgrass Planting Program here.  For more details on these events and for registration information please contact nlc@nantucketlandcouncil.org!
Photos courtesy of Kindflow Productions.