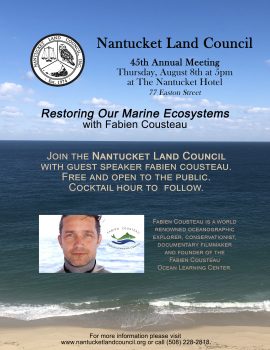 The Land Council is proud to announce their 45th Annual Meeting was held at The Nantucket Hotel on Thursday, August 8th, 2019 with special guest speaker Fabien Cousteau, of the Fabien Cousteau Ocean Learning Center.  Fabien, grandson of Jacques Cousteau, is a world renowned oceanographic explorer, ocean conservationist, and documentary filmmaker.
The meeting was well-attended with over 200 guests to hear our Annual NLC updates on programs, research, and initiatives, as well as a talk with Fabien Cousteau on his organization and his support of local initiatives to save our harbor ecosystems.
Fabien and the Ocean Learning Center also partnered with the NLC for a Beach Cleanup project on August 9, 2019 and a special Eelgrass Transplant Day on August 10, 2019.  Please subscribe to our e-newsletter for upcoming information on next year's annual meeting, events, and guest speaker.  Please contact nlc@nantucketlandcouncil.org with additional questions!
Please click the image below for video of the full 2019 NLC Annual Meeting.