The Nantucket Land Council is proud to announce their 47th Annual Meeting to be held Tuesday, August 2nd, 2022 at the Nantucket Hotel at 5pm.  NLC Executive Director Emily Molden will present highlights of our environmental protection and preservation efforts over the last year in addition to our usual Annual Meeting business.
In 2021, we welcomed guest speaker Brendan O'Neill, Executive Director of the Vineyard Conservation Society for a dialogue on our islands' shared conservation issues.
We will also launch our NLC Associates led #NantucketTrashtag beach clean up event – held each year in August. Please join us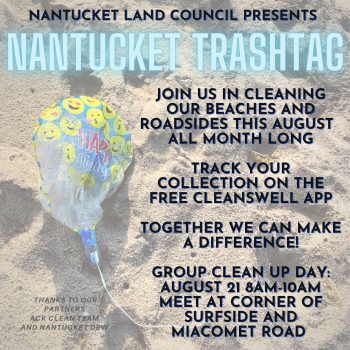 for a special collaborative litter cleanup.  Let's keep Nantucket beautiful!
For more information on our #NantucketTrashtag event please email meg@nantucketlandcouncil.org!
Please click the image below for video of the full 2019 NLC Annual Meeting with Fabian Cousteau.