On Tuesday, August 2nd at 5:00 pm the Nantucket Land Council will hold its 48th Annual Meeting at the Nantucket Hotel Ballroom, 77 Easton Street. The NLC has been working with the Waterkeeper Alliance to celebrate this year's 50th Anniversary of the Clean Water Act. The Clean Water Act was a groundbreaking piece of legislation that changed the way the country, and more specifically grassroots citizen groups, could affect environmental change. It paved the way for advocacy around clean water issues and provided important legal tools that enabled the people to hold polluters accountable.
The NLC is creeping up to its own 50th anniversary and has been instrumental in paving the way for water protection on Nantucket Island since its beginning. While much has been done to set the stage for long-term water protection, the pressures of increased development have serious consequences and continue to have real implications for the future health of our waters. Join us on Tuesday as we celebrate some of the achievements we have made on Nantucket, as well as engage our membership and audience in further dialogue around what needs to be done now to sustain the health of our waters and why our ongoing advocacy efforts are so important. Following a brief business meeting, Executive Director Emily Molden will make a presentation with special guests and former NLC Executive Director Linda Holland and will facilitate discussion around "What's Been Done & What's To Come".
In 2021, we welcomed guest speaker Brendan O'Neill, Executive Director of the Vineyard Conservation Society, for a dialogue on our islands' shared conservation issues.
We also launched our NLC Associates-led #NantucketTrashtag beach clean-up event – held each year in August. Please join us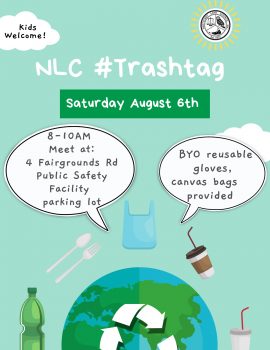 for a special collaborative litter cleanup this August 6th, 2022, from 8 AM-10 Am! Meet us at 4 Fairgrounds Road, and let's keep Nantucket beautiful together!
For more information on our #NantucketTrashtag event please email anna@nantucketlandcouncil.org!
Please click the image below for video of the full 2019 NLC Annual Meeting with Fabian Cousteau.