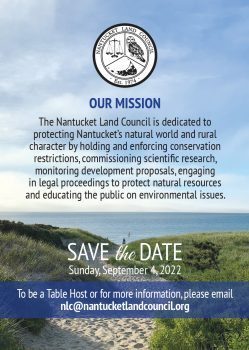 The Nantucket Land Council's Annual Labor Day Dinner is a celebration of the summer season and the NLC's coordinated efforts to protect and preserve our island's natural and water resources!
This year's event will be held on Sunday, September 4, 2022  We welcome you to join us as a Table Host (up to 10 guests) – please contact nlc@nantucketlandcouncil.org for more information and ticket tier pricing.
2022 Table Hosts
Susan Baer and Nancy Gillespie
Bill and Margi Brenizer
Lucy Dillon
Bob and Barbara Friedman
The Cox/Farrell/Bartram Families
Brooks and Meredyth Smith
Hosted by Mary-Randolph Ballinger and Susan Baer, our Annual Labor Day Dinner is the Land Council's only yearly fundraising event; proceeds from the event are supporting our ongoing work to protect, defend and restore Nantucket's fragile environment.
In addition, should you wish to support the NLC Annual Dinner but will not be joining us for the Annual Labor Day dinner, we invite you to make your 100% tax deductible donation online at www.nantucketlandcouncil.org/donate/ or mail a check or credit card information to us at Box 502, Nantucket, MA, 02554.  Thank you for your support of the NLC!
The NLC Annual Labor Day Dinner is the Land Council's only annual fundraising event.  Join us!
---
A sincere Thank You to our 2021 Table Hosts:
The Cox/Bartram/Farrell Families
Bill and Margi Brenizer
Lucy Dillon
Bob and Barbara Friedman
Ann and Charles Johnson
Peter and Bonnie McCausland
Brooks and Meredyth Smith