The Nantucket Land Council's End of Season Dinner is an an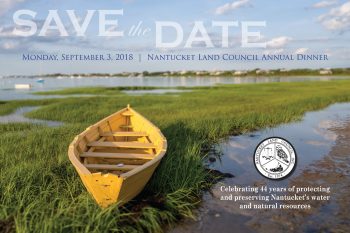 nual celebration of the summer season and the Nantucket Land Council's coordinated efforts related to Environmental Advocacy on the island. This year the End of Season Dinner will be held on Monday, September 3, 2018 at the lovely Chanticleer Restaurant in 'Sconset.  We are excited to announce that this year's dinner will fully support The Water Fund – a restricted campaign to allow the Nantucket Land Council to begin important water quality initiatives such as eelgrass research, stormwater runoff testing and green crab studies.  For tickets, please email meg@nantucketlandcouncil.org or call (508) 228-2818.
Last year's End of Season Dinner was a great success; co-Chairs Karen K. Clark and Mary-Randolph Ballinger hosted a memorable evening at Straight Wharf restaurant in recognition of the Nantucket Land Council's environmental efforts to protect and preserve Nantucket's natural resources and fragile ecosystem.  Guests who attended this dinner were supporting the Nantucket Land Council's ongoing work to protect, defend and restore our fragile environment.  It was the perfect send off to another beautiful season on Nantucket, filled with friendship and conversation, great food and fine wines.  We look forward to another season of protecting and preserving Nantucket's natural and water resources, and could not do it without the support of our donors, members, and volunteers.  Thank you!
2017 Event Photos