The Nantucket Land Council and Almanack Arts Colony are excited to announce the date for the next Friends Fête – Friday, July 9, 2021!  Please join us for a fun night of live music and delicious food & drink for a great cause!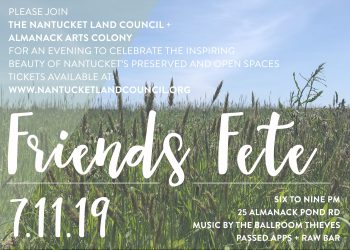 The Nantucket Land Council and Almanack Arts Colony held the 1st annual Friends Fete to celebrate the inspiring beauty of Nantucket's preserved and open spaces on July 11, 2019.
Guests enjoyed generous hors d'oeuvres, raw bar, open bar, live music and dancing at the gorgeous and unique Almanack Arts Colony in Polpis. The NLC and AAN brought together the next generation of environmental philanthropists, while enjoying food by Nantucket Catering Co., drinks by Donelan Wine and 888/Cisco Brewers, and live music with The Ballroom Thieves! A small silent auction with unique experiences and prizes was available for bidding. Complimentary valet parking was available as was a special after-party shuttle to conveniently transport groups downtown. Join us for Friends Fete in Summer 2021 – July 9, 2021.

Young Friend Ticket $150
Patron Ticket (45 years +) $300
This event is designed to connect NLC & AAC to the next generation of environmentalists, artists, and philanthropist who understand the pressing issues we must tackle on Nantucket to ensure a sustainable and vibrant future for our beautiful Island.  It's with this in mind that we kindly ask all of our patrons over 45 to purchase at the patron level if you'd like to join us for this fun evening. 
Ticket proceeds benefit Nantucket Land Council (www.nantucketlandcouncil.org) and Almanack Arts Colony (www.almanackartscolony.org) – two Nantucket non-profit organizations dedicated to maintaining our island's unique character.
Your 2019 Friends Fete Host Committee,
Laurel Ried Langworthy (Event Chair) & Ben Langworthy,  Matt Anderson, Natasha & Robert Boucai, Chrissi & Chris Crampton, Callie Kever & Caleb Cressman, Cynthia & Miles Clements, Rachel & Colin Greenspon, Peter & Moriah Donelan Hyrb, Sarah & Patrick Lanni, Peyton & Keith Lister, Keltie Donelan McDonald & Zack McDonald, Katie Kaizer & Evan Schwanfelder, Jim Garrels & Tessa Cressman, Tracy Long, Lily Zarrella & Ted Rainaud, Amanda Starbuck
Interested in joining our 2021 Friends Fete Host Committee? Please contact meg@nantucketlandcouncil.org or callie@almanackartscolony.org to join.