Join the Maria Mitchell Association and the Nantucket Land Council during the 2nd Annual Nantucket Green Crab Week, this coming August, to learn more about this threat, participate in citizen science research, and learn how to collect, cook, and use green crabs in a variety of ways. Events include videos, live demonstrations and lectures, and a citizen science activity.
The NLC has been studying the Green Crab populations in Nantucket harbor over the past several years and has expanded our research to include a molting study designed to explore the possibilities of this invasive species as a viable Nantucket fishery.  Read more about the NLC's Green Crab Research…
2021 Nantucket Green Crab Week Schedule of Events 
Monday, July 12th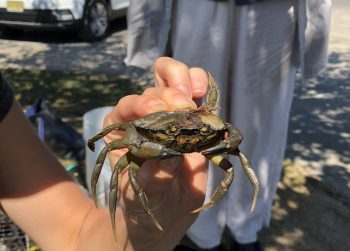 Green Crab Molting Condos Workshop at the Nantucket Shellfish Hatchery, Brant Point
Join the Nantucket Land Council at the Brant Point Shellfish Hatchery for a demonstration of our green crab "condos" and molting project. We'll go over green crab behavior, physiology, and why we're so interested in their soft shell form. We're always looking for volunteers and this is a great way to get involved in the project! No registration required.
Green Crab Identification Workshop at Maria Mitchell Association Aquarium
Stop by the Maria Mitchell Association Aquarium on Monday afternoon to learn how to identify green crabs and compare them with native species. In under 10 minutes, you will be a green crab expert! This is a great chance to get to know the Nantucket's crab species before the Green Crab Derby. This FREE workshop will have ongoing availability between 2:00 PM and 4:00 PM. No registration required.
Tuesday, July 13th
Green Crab Population Research Workshop at Children's Beach
4pm-5pm
Join NLC staff as we process green crabs we caught in Nantucket Harbor the evening prior. This is a hands-on activity which involves handling real, live crabs! We'll be measuring size, noting gender, and selecting some for our molting program as well as for our fertilizer program the following day. We welcome adventurous volunteers of all ages to join us for a few minutes or an entire hour. See you there! No registration required.
Wednesday, July 14th
Green Crab Fertilizer Workshop at Sustainable Nantucket Garden, 168 Hummock Pond Rd
10am-12pm
In collaboration with Sustainable Nantucket, please join us for this free, fun and exciting way to help control the population of the invasive green crab, all the while creating an environmentally friendly fertilizer for your garden. For folks to make their own green crab fertilizer, they should bring completely waterproof boots they're comfortable crushing dead crabs with, as well as a sealable bottle or jar to take home their fertilizer. We will provide crabs, coolers, vinegar and take home fertilizer instructions. Register HERE.
Science Speaker Series with Dr. Jason Goldstein via Zoom
7pm-8pm
On July 14 at 7pm, the MMA is hosting a live lecture presented by Dr. Jason Goldstein. His talk, "Closing 'Vacationland' to Green Crabs: Research, Monitoring, and Collaborative Initiatives for a Prolific Invasive Species in the Gulf of Maine" is part of our FREE Science Speaker Series on Wednesday evenings from 7-8pm and will be held via Zoom.
Dr. Jason Goldstein is the Director of Research at the Wells National Estuarine Research Reserve. He is developing, and actively participating in, ecological research and monitoring programs that advance knowledge and understanding of coastal ecosystems, habitats, and natural resources in the Gulf of Maine. Concerns from fishers and shellfish farmers are growing over historical and recent impacts of the invasive green crab in coastal and estuarine systems. In Maine, green crabs feed on economically important bivalve species and compete with other native crustacean species, reducing overall ecosystem stability. Read more about Dr. Goldstein's lecture and our Science Speaker Series at mariamitchell.org and register for the lecture HERE.
Thursday, July 15th
Clean Water: Topics on Tap Webinar: Green Crabs – Danger and Delicacy via Zoom
5pm
Join us for an information session and cooking demonstration to learn how we are turning this invasive species into a dining delicacy! Hosted by Mary Parks, Director and Founder of Greencrab.org and co-author of The Green Crab Cookbook, and RJ Turcotte, Nantucket Waterkeeper, Nantucket Land Council. Register HERE.
Friday, July 16th
First Annual Nantucket Green Crab Derby, Weigh-in at MMA Aquarium
12pm-4pm
Help the Maria Mitchell Association and Nantucket Land Council fight the green crab invasion while competing for prizes in the 1st annual green crab derby! Teams of 4 will compete for fun prizes for collecting invasive green crabs from Nantucket! Registration is $10/registrant.
Green crab collection can take place anytime on Friday, July 16. Participants should bring crabs to the MMA Aquarium between 12pm-4pm to submit their collection to be weighed and counted. Prizes will be awarded for the team with the most green crabs (measured by weight), the team with the largest green crab, and the "best dressed" green crab. One lucky team who did not win the above prizes will also be randomly selected to win!
Prizes include an MMA membership, a copy of The Green Crab Cookbook and more! Read more about the rules and register HERE.