This summer, join the Nantucket Land Council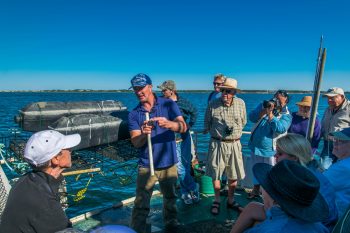 for an exciting and educational afternoon aboard Shearwater Excursions Shearwater 47′ power catamaran with Captain Blair Perkins, NLC Executive Director Emily Molden, Resource Ecologist RJ Turcotte, and Oyster Farmer Simon Edwardes for a tour of Head of the Harbor, and an exploration of Fifth Bend Oyster Farm. Along the way you'll learn more about oysters and their role in the ecology of the harbor. Tickets are limited and advance registration is now available at EventBrite.com.  Email meg@nantucketlandcouncil.org with questions or to schedule a private tour.
2020 Oyster Farm and Harbor Tour Dates:
June 24, 25
July 6, 7, 22, 23
August 6, 7, 20, 21
September 21
All tours begin at 3:00 pm, last approximately 2 hours, and are open to the public.