Join the Nantucket Land Council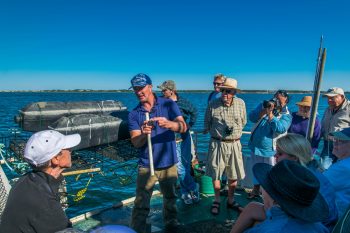 and Shearwater Excursions this summer for a private Oyster Farm and Harbor Tour! Head out for an exciting and educational afternoon aboard Shearwaters 24' Carolina Skiff, the Wampum, with NLC Executive Director Emily Molden, Nantucket Waterkeeper RJ Turcotte, and Oyster Farmer Simon Edwardes for a tour of Head of the Harbor and an exploration of Fifth Bend Oyster Farm.⁠⁠
Along the way, you'll learn more about oysters and their role in the ecology of the harbor. Private tours will be offered to 9 passengers on June 30th, July 14th, August 1st, and August 15th, 2022. Part of the proceeds will go towards the NLC to further protect and preserve our natural resources.⁠⁠ Please visit Shearwater Excursions for tickets!
For scheduling and pricing, please call 508-228-7037 or email info@shearwaterexcursions.com.