Please note: our 2021 large group public Oyster Farm and Harbor Tours for this summer are not on sale at this time.  We sincerely hope to be able to provide these tours this summer – please stay tuned to our e-newsletter and social media (@nantucketlandcouncil) for further updates!
The Nantucket Land Council offers private, small group Oyster Farm and Harbor Tours this summer for groups of up to 8. Join the Nantucket Land Council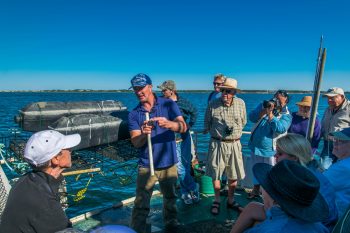 for an exciting and educational afternoon aboard Shearwater Excursions Shearwater 47′ power catamaran with Captain Blair Perkins, NLC Executive Director Emily Molden, Nantucket Waterkeeper RJ Turcotte, and Oyster Farmer Simon Edwardes for a tour of Head of the Harbor, and an exploration of Fifth Bend Oyster Farm. Along the way you'll learn more about oysters and their role in the ecology of the harbor. Masks are required. Private tours are offered Monday through Thursday afternoons. For scheduling and pricing, please email meg@nantucketlandcouncil.org.