Join the Nantucket Land Council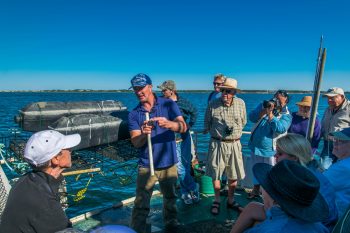 for an exciting and educational afternoon aboard Shearwater Shearwater Wampum with Captain Max Perkins, NLC Executive Director Emily Molden, Nantucket Waterkeeper RJ Turcotte, and Oyster Farmer Simon Edwardes for a tour of Head of the Harbor, and an exploration of Fifth Bend Oyster Farm. Along the way you'll learn more about oysters and their role in the ecology of the harbor. Masks are required if unvaccinated. Please visit Shearwater Excursions for tickets!
Private tours are also available on select Monday through Thursday afternoons in July and August. For scheduling and pricing, please email nlc@nantucketlandcouncil.org.