Join the Nantucket Shellfish Association and Nantucket Land Council for a fun night tasting Nantucket's finest oysters! Learn about our Nantucket oyster farms and sample oysters from Fifth Bend, Pocomo Meadows, and Grey Lady oyster farms on Nantucket.
E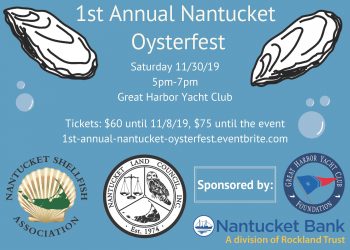 ach ticket includes one drink, 4 raw bars, Oyster Po'boys and Oysters Rockefeller! Sip a cocktail and learn about this amazing local industry and the role oyster farming plays in keeping our harbor clean. The Town of Nantucket Natural Resources Department will also be on site to talk about their on-going oyster reef restoration projects in Nantucket harbor. Also, all oyster shells from the event will be recycled by the Natural Resources Shell Recycling Program and eventually used for oyster restoration!

Click here for tickets: https://www.eventbrite.com/e/1st-annual-nantucket-oysterfest-tickets-78661018223
Take a break from your Thanksgiving weekend activities, head to town and enjoy our not-to-be-missed 1st Annual Oysterfest and cocktail party!
Thank you to our Sponsors:
Nantucket Bank, a division of Rockland Trust
Great Harbor Yacht Club Foundation