The Nantucket Land Council is teaming up with another like-minded nonprofit called Seaside Sustainability to research microplastics in Nantucket waters. As part of a larger study in coastal areas throughout the northeast, NLC will be towing a specialized net, called a Neuston net, to capture tiny bits of plastic near the surface of Nantucket and Madaket harbors. Some of the particles, which used to be items like storage bins and mylar balloons, are so small they can only be captured with a Neuston net and seen in detail under a microscope! Seaside Sustainability is graciously lending us their specialized net and protocol so that Nantucket can participate in the study. The samples will be collected at the end of October and sent to students at Endicott College for analysis.
NLC Executive Director Emily Molden is an ever-present voice on the Town's plastics ban workgroup, which is working with stakeholders across Nantucket to ensure effective implementation of the new bylaw banning certain single-use plastic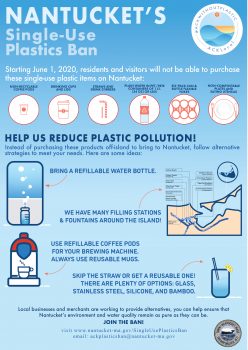 s passed at the 2018 Special Town Meeting. The plastics ban specifically prohibits the commercial sale and distribution of certain single-use plastics including plain water bottles less than 1 liter. The ban is set to go into effect on June 1, 2020. This critical advocacy work helps businesses and individuals understand what the bylaw is for and why it will benefit Nantucket. Millions of tons of plastic enter our oceans every year, much of it wasteful single-use. It can cause harm to marine life- we've all heard the story of the unfortunate sea turtle swallowing a grocery bag as its final meal- but it is beginning to cause harm to humans as well. Microplastics, which often carry harmful carcinogens, are being found in the foods we eat and the water we drink.
The NLC will also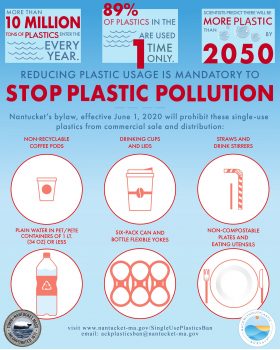 be taking coastal plastics education into the classroom this fall by teaching students the downsides and dangers of single-use plastics, and providing reusable bottles for students to use in lieu of throw-away bottles. The Land Council and DPW will be working together with local schools to spread awareness of plastic pollution in the classroom. Stay tuned for more updates on these research, policy and education initiatives. For more information on the Single-Use Plastic Ban please visit the Town's website: https://www.nantucket-ma.gov/1475/Single-Use-Plastics-Ban