The Nantucket Land Council partnered with the Linda Loring Nature Foundation for it's second annual BioBlitz this summer with some incredible results! Thank you to our over 110 participants for documenting 857 species with a total of 2135 observations in just one month. This is outstanding, particularly when compared to last year's results when we had 517 observations of 296 species, with 199 identifiers – way to go Nantucket!  Bioblitz is an opportunity for all community members to use a fun, free app called iNaturalist to document species in any area while engaging with and appreciating nature and our ecosystems.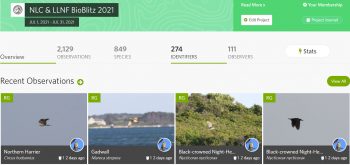 This year's results included some fantastic finds. Some of our favorite observations were made by our partners in conservation including Chase Mathey of the Nantucket Conservation Foundation, and our own Helen Weeks, NLC Associate.
"The BioBlitz prompted me to look with fresh eyes at what I see everyday, and I learned the names of some of the plants that I hadn't ID'd before, beyond labelling them a "weed." After the initial couple of forays around the yard, I started thinking about how to find more species. I started turning over rocks and staring at the sky. I think this was a great way to get outdoors and I hope you do BioBlitz challenges frequently!" – Mary Longacre, NLC member and Bioblitz participant
Part of this year's Bioblitz was a challenge to find some unique/rare species and categories.  We are excited to announce this year's winners who will receive Nantucket Land Council and Linda Loring gear, as well as a copy of Rising by Elisabeth Rush – NLC's State of the Harbor Forum guest speaker last summer.

Winners of 2021 Bioblitz Challenge:
Most Species Recorded – Chase Mathey & Rodolfo Montez
Rare/Endangered Species –
Kelly Omand & Adriana Voci for Creeping St. John's Wort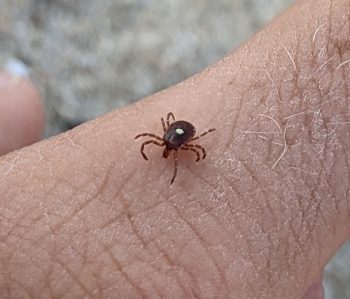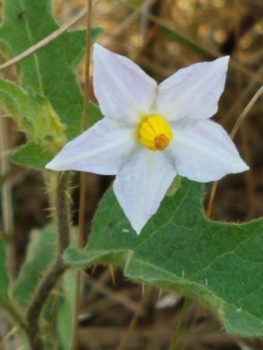 Lone Star Tick, observed by Lily M.
Carolina Horsenettle, observed by Kelly Omand, NCF
By taking part in our Bioblitz challenge, not only are you engaging with our beautiful open spaces and varied habitats, you are fostering a love for the outdoors for yourself, your children, and joining a community of like-minded environmentalists.  Thank you for participating and supporting the Nantucket Land Council and Linda Loring Nature Foundation, and keep observing the nature all around us!
Read more about the NLC and LLNF's 2021 Bioblitz in this fantastic article in Yesterday's Island written by Dr. Sarah Bois.