The Nantucket Land Council is excited to present a series of events next week August 8-10, 2019 with Fabien Cousteau and the Ocean Learning Center.
The events begin Thursday, August 8th at 5pm at the Nantucket Land Council's 45th Annual Meeting at The Nantucket Hotel.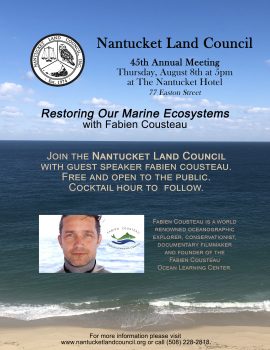 On Friday, August 9th at 9:30am the Nantucket Land Council and Fabien Cousteau Ocean Learning Center will co-host a public Beach Cleanup at Surfside Beach with partners Nantucket Clean Team, the Maria Mitchell Association, the Town of Nantucket, Strong Wings Adventure School and the Artists Association of Nantucket.  Bags and gloves will be provided.  Please use public transportation as parking is limited.  The cleanup will start promptly at 9:30am. Following the cleanup, the Artists Association of Nantucket will host an art class for all ages (children under 10 must be accompanied by an adult or caregiver) to create art with the collected trash at 2pm.  Preregistration for the art class is required and is available at the Artists Association website (click here!).
On Saturday, August 10, at 9am the Nantucket Land Council and Fabien Cousteau Ocean Learning Center will host a unique Eelgrass Transplant program where NLC staff, Fabien Cousteau and Dr. Alyssa Novak of Boston University will present a family-friendly presentation on the importance and specifics of our eelgrass transplant followed by a chance for participants to get in the water and transplant eelgrass. Pre-registration required. Participants must bring snorkeling gear and life jackets to swim to transplant site.  All participants under 18 must be accompanied by a parent or guardian.  Sponsorship opportunities are available for this special educational day.  For more information or to register please contact Meg at (508) 228-2818 or meg@nantucketlandcouncil.org.