Saturday, Sept. 21st, 2019 from 11am-2pm
The Nantucket Land Council is proud to announce our annual Camp Richard Family Fun Day! Enjoy the beautiful 100-acre Boy Scout camp and celebrate the NLC's court case win to preserve and protect this land!  Free and open to the public, all are invited to enjoy a fall afternoon playing and exploring the grounds of Camp Richard. We'll have live music with 4 EZ Payments, BBQ, guided nature walks, face painting, scavenger hunt, camp games, 3 legged-race, pumpkin painting, pumpkin ring toss, and more! This event is open to all ages, activities are free and lunch will be available for a donation to the Nantucket Land Council. The NLC would like to thank the Nantucket Boy Scouts, Camp Richard Campers Association, and the Nantucket Civic League for their support of this event.
Volunteers are needed!!  Please sign up here: https://bit.ly/2lM9IdK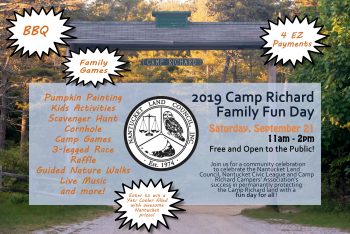 Thank you to our generous sponsors who make this day possible!
Arthur Gasbarro, Nantucket Engineering & Design
The Haulover
Something Natural
Critter Cruise
Marine Home Center
Maria Mitchell Association
4 EZ Payments
Nantucket Civic League
Camp Richard Campers' Assoc.