Last week the Nantucket Select Board voted to declare September 2020 as Climate Change Awareness Month after a Proclamation was drafted and provided to them jointly by ACKlimate and the Town's Coastal Resilience Advisory Committee.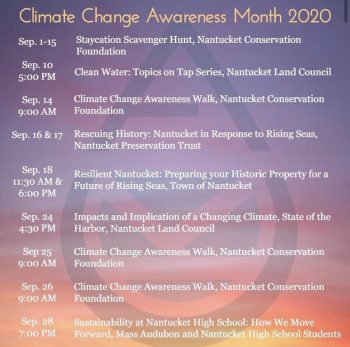 ACKlimate is a public-private partnership dedicated to adapting Nantucket to a changing climate and rising seas through local and global engagement. The Nantucket Land Council is a partner organization and has been participating in ACKlimate's platform to engage the community around these issues. In the proclamation the Select Board "…encourages all residents to learn more about the threats of climate change and sea level rise and the planning efforts underway to increase community resilience." Our 4th annual State of the Harbor Forum will be a featured event in this
year's Climate Change Awareness Month.