On September 2nd, the Nantucket Conservation Commission issued an Enforcement Order requiring the 'Sconset Beach Preservation Fund (SBPF) to remove their geotube array after meeting four distinct failure criteria outlined in their project permit, and publicly stating they had no intention of coming into legal compliance.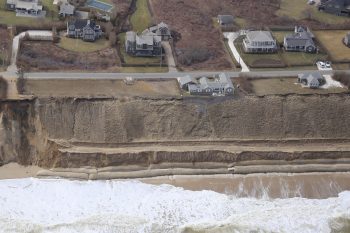 Despite enormous political pressure, the Commission stood strong. Led by Chairwoman Ashley Erisman, a local high school science teacher with an advanced scientific degree, the Commission thoroughly debated all the options before them. For over two hours, Commissioners carefully discussed the merits and flaws of each potential outcome. Chair Erisman also allowed extensive public comment from both sides of the project. 
Like any other Conservation Commission in Massachusetts, Nantucket's Commission has a very specific task- administer the regulations that protect our wetlands. Our Commission held public hearings on over 100 different projects in 2020. Every single one of these projects is held to the same standards- the Massachusetts Wetland Protection Act and the Nantucket Wetlands Bylaw. The 900-plus foot geotube array at 'Sconset Bluff is no different.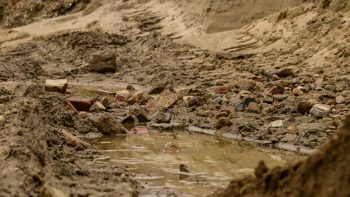 An enormous coastal engineering project protecting a handful of homes and vacant lots along a stretch of Baxter Road, the project has been out of compliance for over five years. SBPF repeatedly failed to provide enough mitigation sand to replace what would be naturally eroding from the bluff if the geotubes were not installed. This mitigation sand is fundamentally crucial for the project to be a success. Without it, other private properties, beaches and banks will suffer. A year ago, SBPF dumped truckloads of contaminated sand from house and septic excavation sites filled with construction debris and fecal coliform bacteria onto the public's beach. SBPF also refused for years to conduct proper monitoring of the project as required in their project permit. This made it difficult for anyone to determine exactly how the project was performing.
On March 22nd, 2021, while reviewing SBPF's 2019 annual report, it was discovered that the project was behind in providing required mitigation sand by 20,735 cubic yards- equivalent to 1,481 dump truck loads stolen from our beaches. SBPF referred to the enormous deficit as a "clerical error." Chair Erisman respectfully requested that SBPF provide a plan to bring the project into compliance prior to the public hearing on SBPF's 2020 Annual Report.
Instead, on May 17th at the 2020 SBPF Annual Report review, SBPF appeared empty-handed. The 2020 Annual Report revealed a project even further behind- over 3,288 dump truck loads behind. Once again, the Commission asked the permit holder to provide a plan to come into compliance with their permit. Instead of a plan, Chair Erisman received an email (now public record) from SBPF Chairman Josh Posner detailing how the organization had no plans of obeying their legal obligations unless their plan to expand the project by thousands of feet was permitted. In the short time between the May 17th Annual Report Review and June 30th Enforcement hearing, the Land Council worked with Trey Ruthven (Applied Coastal Research and Engineering) and Dr. David Kriebel (Coastal Analytics), two experienced coastal engineers, and created a viable 4-year plan which SBPF could use to get into compliance. Mr. Posner continued to insist on permitting the expanded erosion project before the current one could be brought into compliance. 
It is critical for the Town and community to understand that while the existing geotubes may be preventing erosion along the bank where they are constructed, the lack of adequate mitigation sand is causing erosion to other properties. 
Understandably frustrated, the Commissioners voted 6-1 that failure criteria had been met, that the permitholder was not acting in good faith to bring the project into compliance, and that the project needed to be removed as outlined in the permit. What followed this vote was an unfortunate display of small-town politics as letters to the editor poured in, accusing the Commission of acting inappropriately and literally referring to them as a "lynch mob." The Commission's principled decision was characterized as unfair or biased. Individual public servants were being targeted when the real issue was SBPF's refusal to adhere to the Wetlands Bylaw and conditions of their permit. The Select Board that appointed the Commissioners to uphold the Wetlands Protection Act then publicly requested that the Commission reconsider its decision. Nantucket's Select Board was asking a regulatory body to make an inappropriate exception, and our Commission ultimately refused.
Concerned with the legal implications of upholding the Bylaw against a permitholder that has repeatedly threatened and used legal action against the Town and Commission, Chair Erisman sent a letter to the Select Board requesting independent legal counsel to advise them in the matter. The Select Board, in an unexpected move carried out in executive session, denied the Commission independent legal counsel. The Commission requested that they be allowed to attend the Select Board executive session and were also denied. Once again, Commissioners were asked to reconsider their careful decision. 
This series of events brought us to September 2nd's meeting. The Commissioners, all volunteers, once again gathered via Zoom to debate all alternatives to the removal order. Over half a dozen different motions were proposed. Possible amendments were discussed in detail- Is it possible to issue the removal order but have a clause to rescind it if a discussion with the Select Board yields a better solution? Should we ask for independent counsel again? Should SBPF be given yet another chance to come into compliance, despite expert testimony and their own public statements? 
In the end, after two and a half hours, the Commission concluded there was no way to make all the parties involved happy. They stuck to their civic duty of upholding our wetlands regulations and treated SBPF as any other permitholder with a project that has been out of compliance for half a decade. After a roll call vote, 5-1 in favor, the Enforcement Order for removal was issued. SBPF had 60 days to remove the geotubes from the toe of Sconset Bluff. 
A small but crucial part of our local government functioned exactly as it should, despite political and special interests' pressure to stop the process. On September 2nd, the Conservation Commission stood up for our natural resources and our coastal community. In the face of climate change and sea level rise, we need leaders like these who will do the right thing even when it's hard. As we work toward coastal resilience on Nantucket, one cannot achieve resilience for themselves while harming their neighbors and the environment. If Nantucket is to adapt to rising seas, we must all be pulling in the same direction, working towards a resilient community- not pitting neighbors against one another. 
With all this in mind, be sure to thank our dedicated Conservation Commissioners if you bump into them at the Post Office or grocery store. Performing a job under pressure is never easy, and too many public servants fail in the biggest moments. On behalf of the NLC Board and staff, we extend our sincerest thank you to the entire Commission for their hard work these past months. You make Nantucket a better place.