Caroline Collatos, a shark biologist and PhD student at the New England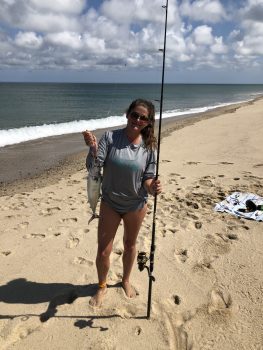 Aquarium will be presenting her local research project titled "Investigating presence and habitat use of Sandbar sharks (Carcharhinus plumbeus) around Nantucket, MA," as part of the NLC Clean Water: Topics on Tap webinar series this summer.  Join Ms. Collatos on June 17 at 5pm for her presentation: Sandbar Sharks on Nantucket, Who are they, What are they up to, and Why do we care? This free, public webinar will present an introduction to Nantucket's Sandbar sharks, their biology, behavior and the logistics of tracking one of Nantucket's top marine predators and will be hosted by Nantucket Waterkeeper RJ Turcotte. Register HERE.
The goal of Ms. Collatos's research is to contribute to the knowledge of the Nantucket nearshore local shark populations and biodiversity, as well as better understand the potential role these apex predators play in the coastal marine ecosystem. The research is being conducted in collaboration with the New England Aquarium, the Nantucket Land Council, and the Atlantic White Shark Conservancy, and will use acoustic telemetry to (1) investigate Sandbar sharks (Carcharhinus plumbeus) use of Nantucket's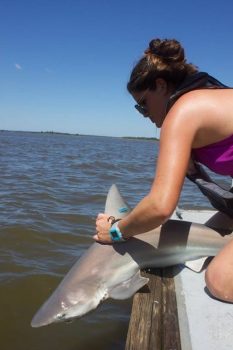 nearshore waters; and (2) gather additional information on shark and fish habitat use of the island in order to enhance our understanding of Nantucket's nearshore biodiversity.
Ultimately, this research can help illustrate the marine ecological picture of nearshore Nantucket waters and the potential role the island plays for coastal fishes, especially for vulnerable species that rely on these habitats like Sandbar sharks. The Nantucket Land Council is accepting donations on behalf of Ms. Collatos, and these respective donations will be used to purchase equipment for the project such as: moorings for acoustic receivers, acoustic tags, boat trips to deploy gear, and sampling materials.
To support her research, please make a donation today and note "shark research" in the special instructions box to ensure your donation goes towards Ms. Collatos's work.  Thank you for your interest!
For more information about Sandbar Shark research, please contact Caroline Collatos.  For any general NLC questions, please contact the Nantucket Land Council.