Earlier this week the NLC submitted comments to th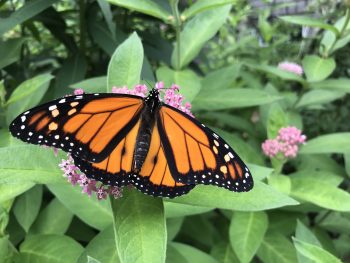 e state opposing a new bill, H4650, that would broadly expand state authority for mosquito control eradication, including aerial spraying, also exempting the State Reclamation and Mosquito Control Board from other state and local regulations. With our friends and partners including the MA Association of Conservation Commissions and the Mass Rivers Alliance, we urged the Joint Committee on Public Health to, at a minimum, send the legislation out to study.
While we have all been dealing with our own threat to public health, the pollinators continue to struggle with theirs. We have learned that Asian "murder hornets" are here in the northwestern US threatening honey bee populations; native bees continue to decline due to pesticide applications, habitat loss and introduced disease; the eastern monarch butterfly's overwintering population was down by 53% this winter. Our fingers are crossed that the monarchs encounter favorable weather conditions on their migration north.
It sounds like a lot of bad news…but the good news is that We CAN Help Protect the Pollinators!
How can we help?
1)      Maintain a chemical free yard and landscape: Bee Friendlier with your Lawncare!
2)      Reduce mowing frequency to every other week, or join citizens across the country in "No Mow May"! (and read more HERE!)
3)      Plant Milkweed or a Monarch Waystation this spring!
Together we can make a difference!