On Wednesday evening, December 11, 2019, the Conservation Commission held a special meeting to address the Sconset Beach Preservation Fund (SBPF)'s failure to meet their project's Order of Conditions. Specifically, the public meeting centered around General Condition #7- "Any fill used in connection with this project shall be clean fill. Any fill shall contain no trash, refuse, rubbish, or debris, including but not limited to lumber, bricks, plaster, wire, lath, paper, cardboard, pipe, tires, ashes, refrigerators, motor vehicles, or parts of any of the foregoing."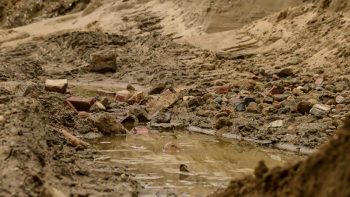 SBPF's geotube project was denied by Nantucket's Conservation Commission but ultimately installed after a Superseding Order of Conditions by Mass DEP allowed the project. At 800+ feet long, this project requires constant sand mitigation and reporting as part of the Order of Conditions. The Nantucket Land Council has been actively involved since the initial proposal in public hearings related to this controversial project, and we have serious concerns about the material being dumped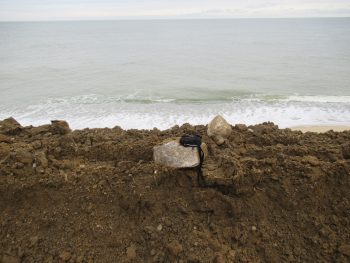 down the bluff to cover the geotube array. As sand becomes more difficult for SBPF to find, they have had to obtain it from suspect sources all over Nantucket, including residential foundation excavations that may be contaminated by abandoned septic systems. Photographs taken by commissioners and concerned citizens alike show all sorts of debris, including bricks, PVC piping, and boulders. After reviewing these photographs, the Conservation Commission unanimously voted Wednesday evening that SBPF had failed to meet General Condition #7, and that enforcement action was necessary. The enforcement action drafted by the Commission is summarized as follows: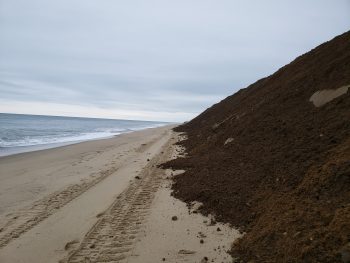 1) The applicant shall provide within 48 hours a plan detailing monitoring and removal of all debris found within the nourishment template. This plan shall be approved by the Conservation Commission prior to its enactment and shall contain methodologies, material testing, screening procedures and timeframes for completion.
2) The applicant shall provide daily updates of quantity removed and photographs documenting debris removal progress.
3) The applicant shall provide protocols for the chemical and biological testing of the existing nourishment template… to ensure that no contaminated material is located within these areas. The protocol shall also include procedures for removal if contaminated material is found.
4) Any further non-compliant nourishment material being installed on the project shall be cause for a project failure. Upon this failure determination a public hearing shall be scheduled for the Conservation Commission to discuss further remedial action including potential removal of the structure and/or revocation of the Order of Conditions.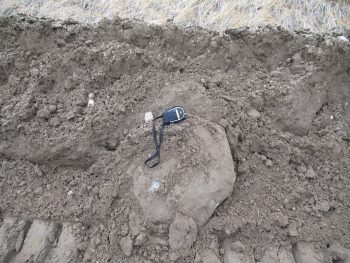 The NLC will continue to attend public meetings regarding this issue, comment when necessary, and support enforcement action by the Conservation Commission to correct these failures before they cause harm to Nantucket's natural resources. If you are interested in attending these public hearings, they are posted on the Conservation Commission portion of the Town website and all are encouraged to attend. The Conservation Commission will continue to discuss remediation for this contaminated fill at their next regularly scheduled meeting on December 18th.
Photos courtesy of Susan Landmann, Town of Nantucket, Nantucket Land Council Staff.