On August 6th, Executive Director Emily Molden, and Nantucket Conservation Foundation Ecologist Danielle O'Dell traveled to Boston for a hearing on the NLC's appeal of the MA Natural Heritage Endangered Species Program's (NHESP) determination of impact from the Surfside Crossing development. NHESP determined that the only impact from the development would be on an endangered moth species, the coastal heathland cutworm. The NLC, based on research by Ms. O'Dell, argued that the project will also impact the state listed endangered Northern Long Eared Bat which is also a federally listed species.
Ms. Molden and Ms. O'Dell, serving as the NLC's expert witness, were cross examined at the hearing while NLC attorney, Jon Witten, did an outstanding job questioning and cross examining NHESP staff as well as a consultant of the developer. The presiding officer will be working on a decision and we hope to hear from him sometime this fall. The Land Council typically works to support NHESP, but it was important, in this case, for the NLC to challenge the policy and process used in this determination.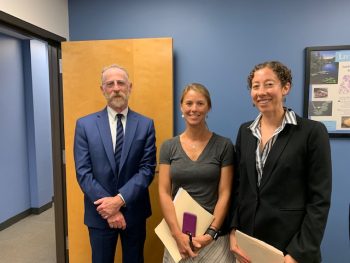 In December of 2017 Nantucket residents Josh Posner of Baxter Road in 'Sconset and Jamie Feeley of Evergreen Way first proposed a 156 unit subdivision off of South Shore Road in Surfside. The project takes advantage of the Massachusetts 40b statute whereby a developer can bypass local zoning as long as 25% of the development is "affordable". The proposal is a mix of apartments and single family houses. The land is currently zoned at two acres which would only allow a 7 lot subdivision. The major impacts from the project include traffic, noise, groundwater pollution, demands on public sewer and water infrastructure, endangered species, archaeological resources, and overall concerns about the density for this rural area. The NLC has engaged legal counsel and other consultants to review the Comprehensive Permit application, provide comments throughout the public hearing process, and has engaged in litigation in response to the development proposal.