Eelgrass is a marine flowering plant that provides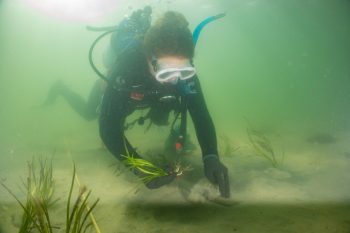 the foundation for our harbor environment. The value of eelgrass meadows is well documented and includes stabilizing sediments, reducing wave energy, serving as a "carbon sink" to help offset our carbon footprint, and improve overall water quality. As our island community searches for answers to more severe storms and rising seas, we can look to nature for solutions that have been working for Nantucket for thousands of years. These meadows provide habitat for a number of commercially important and/or endangered species such as the last commercially viable "wild" bay scallop fishery in the U.S. The abundance and health of eelgrass has, however, diminished from historic levels in many areas. Over the years the Nantucket Land Council (NLC) has supported eelgrass research that has revealed a need for action.

Eelgrass Mapping
In conjunction with the Town of Nantucket and a grant from the NLC and Great Harbor Yacht Club, Charles Costello from the Massachusetts Department of Environmental Protection conducted a detailed eelgrass survey of Nantucket. His results highlight the stark decline of eelgrass in the past few decades. Click here to read his report: 2015 Nantucket Eelgrass Mapping(PDF).
In 2019, NLC staff continued restoration efforts in Nantucket Harbor, transplanting over 15,000 eelgrass shoots from Hussey shoal to the transplant site off Monomoy. This critical work could not have been accomplished without guidance from our eelgrass expert Dr. Alyssa Novak, and the countless hours volunteers from Nantucket's Natural Resources Department and community members have dedicated to donning scuba gear and jumping head first into this project.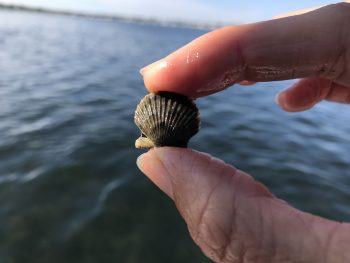 Our restoration area is seeing 50-60% transplant survival, which is the typical survival rate of a successful project. The transplanted eelgrass is also beginning to expand on its own through seeding and rhizomorphic growth. We hope to continue our transplanting efforts in Fall 2020.
 NLC's eelgrass work is expanding to Madaket Harbor in 2020. We will once again be teaming up with Dr. Alyssa Novak to conduct an initial health assessment of the eelgrass community in Madaket Harbor. Sediment cores and eelgrass tissue samples will be analyzed for biological and chemical indicators of the eelgrass' overall health. Environmental conditions will also be looked at through water quality information and the installation of temperature and light sensors at multiple points in the harbor.
 The NLC will continue to use the information we collect, comparing it to other eelgrass communities in our region, and work to improve this critical natural resource through research, education, and advocacy.
The Nantucket Land Council contracted with Dr. Alyssa Novak, Research Assistant Professor at Boston University to conduct its Eelgrass Health Assessment in 2018. This research was made possible by a Great Harbor Yacht Club/Nantucket Land Council Marine Grant. We thank the GHYC for their support. Read the full assessment here: 2018 NLC Nantucket Harbor Eelgrass Health Assessment.
The NLC will continue to assess the overall health of eelgrass meadows throughout Nantucket and Madaket harbors to look at nutrient impacts to eelgrass in Nantucket and compare it to the health of eelgrass in other regional communities along the North Shore and Cape Cod.
Your contributions to The Water Fund enable the NLC to continue working with eelgrass specialists from Boston University to oversee and assist with the health assessment and restoration work.  Click here to join us in protecting and preserving our water resources!