In 2019, the Land Council completed its tenth year of water quality sampling on Nantucket's little understood ponds. Freshwater resources often take a back seat to Nantucket's spectacular marine resources, and surprisingly little is known about many of our ponds' chemistry, ecosystems and overall water quality.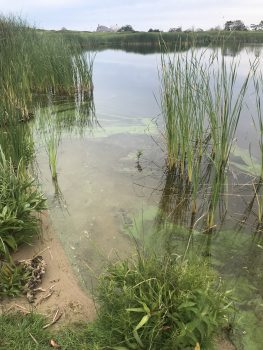 The staff at NLC has been working diligently over the years to document conditions and work with island organizations such as the Nantucket Pond Coalition, Town of Nantucket, Nantucket Land Bank and Nantucket Conservation Foundation to better manage these wonderful natural resources. In 2019, NLC monitored five ponds- Head of Hummock, Gibbs, Capaum, Miacomet, and Clark's Cove- for water quality conditions and Harmful Algal Blooms (HABs). This fascinating work can be found in the 2019 Nantucket Island Ponds Water Quality Report.
Going into 2020, NLC plans to continue collaborative water quality work on Nantucket, with a more direct focus on two ponds- Gibbs and Capaum. Both have exhibited water quality conditions conducive to HABs, which can be toxic. Our research in 2020 will build on 2019's research, helping the community better understand and enjoy these places as well as contribute to the world's scientific understanding of Harmful Algal Blooms in general. We're very excited to share this research with all of you as we go, so stay tuned!