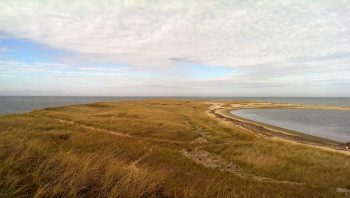 The Nantucket Land Council has been engaged in the health and protection of the island's water since its beginnings. Through a variety of programs and partnerships the NLC continues to expand and diversify the data available to make sound policy decisions that will ensure the long-term protection of these precious resources.
Eel Grass Mapping
In conjunction with the Town of Nantucket and a grant from the NLC and Great Harbor Yacht Club, Charles Costello from the Massachusetts Department of Environmental Protection conducted a detailed eelgrass survey of Nantucket. His results highlight the stark decline of eelgrass in the past few decades. Click here to read his report: 2015 Nantucket Eelgrass Mapping(PDF).
Groundwater Monitoring
Every month, NLC staff head out to ten designated sites on Nantucket to measure groundwater levels at observation wells installed by the United States Geological Survey (USGS). The USGS has over 7,000 observation wells across the United States which help us monitor our freshwater supply- arguably our most critical resource. This monitoring is even more important on our island, because our aquifer is what's called a "sole-source" aquifer. This means that Nantucket has no reasonable alternative for a supply of freshwater should we use up, pollute, or otherwise destroy this one. The NLC has been monitoring these wells for the USGS since the 1980's, providing data on the status of our aquifer for almost 4 decades. If you'd like to learn more about our sole source aquifer and how we monitor it, check out our virtual groundwater video!
Small Island Ponds
In 2014 the NLC began sampling a subset of the island's smaller ponds for which there is very little, if any, historic data. While the great ponds are well monitored by the Town of Nantucket, many of the smaller ponds and watersheds have not been studied. The ponds below have been sampled on a rotating basis, and the NLC hopes to add to this list in the future. Please click on the links below for results, to date, of this research.
Individual Pond Reports (chapter excerpts from complete reports)
Gibbs Pond – Coming Soon
Little Weweeder Pond – Coming Soon
North Head of Long Pond – Coming Soon
Complete Pond Reports
Phosphorous Sources for Hummock and Miacomet Ponds
In 2015 the Nantucket Land Council partnered with the Nantucket Pond Coalition and the Town of Nantucket in a new study funded by the state and federal government through the Clean Water Act. This study was conducted on both Hummock Pond and Miacomet Pond throughout 2016 to determine whether elevated levels of Phosphorus are entering the pond via groundwater and stormwater from the surrounding watershed and/or if it is being internally recycled from sediments already in the pond. Read the 2016 Phosphorus Sources to Hummock and Miacomet Ponds Report.
Other Water Research Publications
A list of all water reports and other Nantucket Land Council publications can be found here.